SÜTAŞ BioBlox in Karacabey, Turkey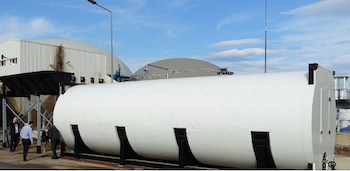 We thank SÜTAŞ for the purchase of it's first BioBlox unit
The first Sütaş BioBlox project has been up and running for a while.
The BioBlox unit was officially opened by Mr. Ilker Ihsan Cabukol, the General Manager of Enfas Enerji EU S.A. (Sütaş Group), on the 30th of November.
The production, installation and start-up of the BioBlox unit is been concluded within a short period of 60 days.
The BioBlox unit is accordingly configured in order to treat approx. 2,4 ton/d of chicken droppings, converting them into biogas and pasteurized homogeny fertilizer.
Specifics
Plant location: Karacabey /Turkey
Process: Dry anaerobic thermophilic digestion
Capacity: 1.460 tons /year
Digester: Plug flow 1 x 90 m3
Surface: 85 m2
Footprint: 42 m2
Start-up: 2017-11-20
EES Mühendislik Ltd /SÜTAŞ: Manages, maintains and operates the BioBlox