BB11.AD11.190N__Cattle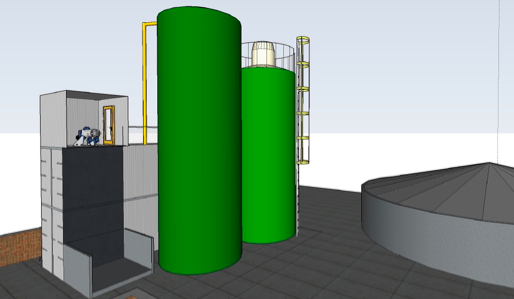 Every BioBlox customer will become one of the many local active CO2-reducers that collectively and with a minimum of effort will assist AllOptimal to significantly decrease the global emissions of CO2, NH2 and more, to protect the environment and to increase the quality of life for every living creature.
| REQUIREMENTS – FEATURES | | | |
| --- | --- | --- | --- |
| Surface | 80-160 m2 | | |
| Footprint (approx.) * | 80-160 m2 | | |
| Min. liquid manure daily** | 11 m3 | | |
| Max. liquid manure daily** | 44 m3 | | |
| Customer Effort /Labor  | Limited | | |
| HCP /Generator included | NO | | |
BENEFITS
NH3 reduction

X

CO2 reduction

X

Biogas

X

Electricity
Heat
Fertilizer

X
  * Depending on the surface layout!
** Less when dried due on region and temperature conditions!
NH3 reduction
CO2 reduction
Less manure to manage
Less manure transport
Less conventional energy
Less pollution
Biogas production
Fertilizer production
Up to date
Circular manure management
Sustainable core business
Expenses becomes savings
Fertilizer to sell
Green profile
Reputation add-on
AllOptimal Active CO2-reducer certification
Positive proposal guarantee ensuring the outcome of any proposal, suggesting a profitable concept. In case the basic engineering shows negative profitability while the company details provided by you are accurate, any amount payd by your organization to AllOptimal and/or local partners will be refunded within 10 days.
Manufacturing guarantee on material and installations by the manufacturer. Valid according to the manufacturers regulations.
Functionality guarantee concerning the performance of BioBlox. Valid 12 (twelve) months after complete installation of the plant or 16 (sixteen) months after the supply of the material, whichever is earlier.
Operational & Performance guarantee in reference to the calculated waste processing capacity including a possible waste increase of % in the future. Valid all period the AllOptimal Total Care service contract applies. ***
***
AllOptimal Total Care
 service contract is obligatory for operational guarantee to apply!
Join and share the profits
---